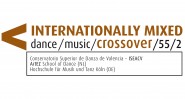 please download the full press release here:
Press release
Internationally mixed Crossover/55/2 – a European dance exchange project 2012 (DE/ NL/ES)
Cologne 04.05.2012
From the 5th to the 29th of June 2012 the choreographic results of a unique one-year exchange process between three universities will tour across Europe.
55 students from three universities will work together with choreographers Georg Reischl and Iván Pérez. A central aspect of the project is the collaboration between music and dance. Two composers Christiaan Richter and Benjamin Scheuer will contribute their compositions to the artistic process. These works will be performed throughout the tour by the Orchestra De Ereprijs. Both of the composers will be mentored during their creative process by recognized artistic director Wim Boerman.
The uniqueness of Crossover/55/2 internationally mixed lies in the multifaceted and multidimensional goals that this project will build and nurture. Besides the creation of complete works, the intensive interdisciplinary involvement and the successful creation of an international network between students, artists, scientists, teachers and the public are both goals and justifications for this project.
Each phase of the project will be documented and organized into a book and a DVD, and in November/December it will be presented at the closing presentation.
The project started in June 2011. Since then, seminars and working groups have regularly been organized in conjunction with the project. An intensive exchange at artistic and organizational levels is a fundamental aim of Internationally mixed Crossover/55/2. As well as the question of how variant styles and methods of choreography and composition will be integrated, there will be discussions about the relationship between the body and society, intercultural processes, and gender relationships within the greater theoretical framework of the project.
The international network created between all the participants guides us towards collective research and work, prods us into a deeper understanding of art, and helps us to surpass the borders of our horizons.
Until the premier on the 5th of June 2012 in Valencia open rehearsals will be programmed. There will be a open rehearsal on the 16th May in Cologne and Arnhem beginning 12:00 o´clock.
Further information:
Implementation:
The evening features two performances. "Pineapple" by Iván Pérez (choreography) / Benjamin Scheuer (music) and "Ex nihilo" by Georg Reischl (choreography) / Christiaan Richter (music).
Two different approaches to the same conditions: a choreographer, a composer and dancestudents of the participating universities.
In "Pineapple" Benjamin Scheuer and Iván Pérez reflect on the relationship between dance and music in the choreographic process taking analysis and exploration of structure, texture and rhythm as starting points. The musical score,  divided in five sections, seems to set a structure for the piece. The dramaturgy of the choreography, however, will be defined by Pérez  when the real encounter in the studio with the dancers happens and finalized with the action of the musicians on stage. Questions on power and hierarchies arise from the dialogue between music and choreography , sometimes the music atmosphere will be respected and other times will be confronted or shut off. Sensitivity towards the interdisciplinary exchange will be explored in this collaboration between music and choreography looking for situations where both meet. An interaction of disciplines allowing new possibilities and different perspectives on shared ideas.
"Ex nihilo", a piece for 25 dancers with 7 musicians and 1 conductor by Georg Reischl (choreography) / Christiaan Richter (music), is a great challenge as it brings together the voices of different artists and will find its final form in a live stage performance.
In the beginning of the process Reischl aims to get to know the dancers. He guides them through physical exercises that will allow them to practice coordination, focus, partnering, tempo, skill providing them with the opportunity to let them show who they are as people and artists. This gives the dancers the time to get to know each other and to find a platform to communicate and work with each other in an open and relaxed way.
Out of this rehearsal mode, Reischl creates the main combination which will be the basis for the piece. The main combination, with its physical rules and laws, contains all the physical information of the piece.
Reischl  has found  great inspiration in the big bang theory and will loosely integrate some of these principles into the working process.
"Everything is in motion at all times. It is in my interest to create a language that suits and challenges the dancers and allows me to create a piece to express my vision. I would like to create a basis for the dancers so that they can make clear decisions within the movement concept, not masking them with a character or story, but to give them the ground to find freedom in a physical world that I will create and form with them together in the studio. Next to soli, duos and quartets I will create a system for group-work that will demonstrate relationships, distance and spatial dependency." Georg Reischl
After having found the movement material and structure of the piece Reischl relates the choreography to the musical score "Titania nanotubes for solar energy and catalysis" by Christiaan Richter: "Titania nanotubes for solar energy and catalysis is a development – not in the classical sense, but more like a process. Step by step, the music unfolds into different states. It evolves very gradually, and because of that the music sometimes seems to be almost static. Still, it does need both change and direction to hold course, and even a minimal change can have huge consequences."  (Christiaan Richter)
Partners:
University of Music and Dance Cologne /Centre for Contemporary Dance (CCD), Germany.
ArtEZ School of Dance, Netherlands.
Conservatorio Superior de Danza de Valencia (ES)
Instituto Superior De Enseñanzas Artísticas (ISEACV)/Fundación Ciudad de las Artes Escénicas
Artists:
Georg Reischl – Choreographer / Iván Pérez – Choreographer / Benjamin Scheuer – Composer / Christiaan Richter – Composer / Orchestra de Ereprijs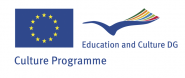 "This project has been funded with support from the European Commission. This communication reflects the views only of the author, and the Commission cannot be held responsible for any use which may be made of the information contained therein."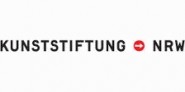 Open rehearsal:
16 May                         Cologne and Arnhem, beginning 12:00 o´clock – Cologne with Georg Reischl  / Arnhem with  Iván Pérez
Both choreographers as well as representatives of the participating institutions are available for interviews and questions.
Tour dates:
Spain:
5 June               Valencia, (premiere) Teatro Principal de Valencia
6 June               Valencia, Teatro Principal de Valencia
7 June               Castellon, Teatro Principal de Castellon
9 June               S.Vicent de Raspeig (Alicante), Paraninfo
Germany:
16, 19, 20 June  Cologne, Konzertsaal Hochschule für Musik und Tanz, 8:00 p.m.
18 June              Aachen, Stadttheater Aachen
The Netherlands:
22 June             Bathmen, 8:00 p.m.
23 June             Nijmegen, Lux Nijmegen, 8:30 p.m.
26 June             Its Festival, Amsterdam, Frascati 1
27 June             Arnhem, Schouwburg Arhnem, 8:15 p.m.
28 June             Rotterdam, Gouvernestraat
29 June             Den Haag, Korzo, 8:30 p.m.
Partners:
University of Music and Dance Cologne

Centre for Contemporary Dance (CCD)
The University of Music and Dance Cologne (UMDC) is one of the leading institutions in art education worldwide. Spread over three cities – Cologne, Wuppertal and Aachen – it is one of the biggest universities for music an dance in Europe. The UMDC educates dance and music students from more then 50 nations and dedicates itself to offer a highly qualified education and a high standard on professionalisation.
The Centre of Contemporary Dance (CCD) at the UMDC understands dance as a physical, artistic and intellectual endeavor. We offer a challenging contemporary dance formation which is designed for highly motivated, creative an curious and independent students. The program focuses on working methods that are pertinent for the current dance field. More so the CCD is a centre for dance research. In cooperation with international institutions and partners, we seek to broaden the understanding of body knowledge, movement and performance in interdisciplinary contexts.
For more information visit www.zzt.hfmt-koeln.de
ArtEZ School of Dance

ArtEZ School of Dance is developing the unique talent of a select number of skilled, motivated students as a dancer, dance teacher and choreographer, at bachelor and master level. The school also offers preparatory training in dance. The school counts 130 students from the Netherlands and abroad. It is known for its unconventional programme which focuses above all on the individual, mirrors professional practice and special method of dance training in reducing injuries considerably.
The education of ArtEZ School of Dance contributes to a new generation of dance artists with their own signature. The school offers dance talent constant interaction with the field and a sound technical basis for their own artistic vision to express themselves in contemporary dance. Dance students also learn to think and act cross-discipline.
ArtEZ School of Dance is part of ArtEZ Institute of the Arts. ArtEZ Institute of the Arts is one of the major arts educational institutes in the Netherlands. It not only comprises a broad range of Bachelor's and Master's courses in the fine arts, fashion, design, architecture, music, dance and drama but also creates an opportunity for interdisciplinary collaboration. With approximately 3,000 students and 850 lecturers and other staff members, the Institute provides education in Arnhem, Enschede and Zwolle. The Board of Governors and the auxiliary departments are concentrated in Arnhem.
Talented arts students from the Netherlands and abroad fulfill their potential at ArtEZ. Originality, passion, a strong-minded attitude and considerable determination are essential here. The students are supervised by lecturers, who have clearly proven their worth in the professional field. The quality of our education is reflected in the recognition it has received both at a national and an international level.
For more information, visit www.artez.nl/dance
Conservatorio Superior de Danza de Valencia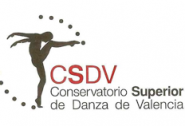 Instituto Superior De Enseñanzas Artísticas (ISEAC))V)
Fundación Ciudad de las Artes Escénicas
The first Spanish conservatory of dance in Spain was inaugurated in 1830. The laws changed over the years but the enthusiasm in dance education grew steadily and stronger as time went by. At the turn of this century, five Conservatories of Higher Dance Studies were created throughout Spain. The CSDV is one of these elite centres which complies with the new European Studies of Bolonia. We belong to the ISEACV (Institute of Higher Artistic Studies of the Province of Valencia). We already have a staff of twenty eight experienced teachers, offering excellent training in Spanish, Classical and Contemporary Dance, as well as the related theoretical subjects.  Our students obtain a Degree in Dance having the option of specializing in Pedagogy or Choreography and Performance. After 4 years of training they are prepared to start a career meeting the demands of the modern day market, be it in dance education, choreography or as performers. In the near future our conservatory will be offering Postgraduate Courses, which will include a Masters Degree in Dance.
For more information visit www.csdanza.es   www.iseacv.es
For the European exchange project, Crossover 55/2 Dance Music Internationally Mixed, the Fundacion Cuidad de las Artes Eschenidas took on the administrative responsibility.  The foundation for Performing Arts was founded in 2000 in Valencia, and is financed by the government.
Artists:
Georg Reischl – Choreographer
Born in Austria, Georg Reischl began his dance training with Rosa Hartlieb in Salzburg and attended the Vienna Opera Ballet School under the direction of Michael Birkmeyer. 
In 1993, he joined the ensemble of Liz King in Heidelberg. Thereafter, Reischl danced 4 years with Scapino Ballet Rotterdam. 
In 1999, Georg Reischl joined Ballet Frankfurt, where he experienced the repertoire and the collaborative creative process with William Forsythe. After the closing of Ballet Frankfurt, Reischl continued with the newly formed The Forsythe Company. Asked to become the resident choreographer for Scapino Ballet Rotterdam, Reischl left the company in 2006. 
As resident choreographer of Scapino Ballet, from 2006-2010, Reischl has created numerous pieces for the company, as well as formed important relationships on an international level. 
As a choreographer and as a teacher, Reischl has educational experience. He teaches Ballet for professional companies and academies and has developed a workshop method, which is called "Body Awareness Training". In a series of lectures to students in schools, universities and other events he uses his experience and knowledge in the art form to create a dialogue about dance.
For more information visit www.georgreischl.com
Iván Pérez – Choreographer
Originally from Alicante, Spain, Iván started dancing at the Professional Conservatory of his hometown. He eventually moved to Madrid to continue his studies of choreography and interpretation techniques at the University Rey Juan Carlos, where he finished with honors for the Best Choreographic Composition. During this time he also performed with the Joven Ballet de Cámara de Madrid, under the direction of Alicia Alonso.
At the age of 19, Iván received a scholarship from the Competition of Interpretation Ciudad de Castellón to be an apprentice with Nederlands Dans Theater II. Two months later, he was contracted with the young company for a 6 month period. He then went on to be a part of IT Dansa in Barcelona, with Catherine Allard as his director. Here he encountered works of Nacho Duato, Rui Horta, Wim Wandekybus, Steijn Celis, and Ramón Oller. Iván then returned to NDT, a relationship that would stretch for seven productive years. Here Iván worked under directors Gerald TIbbs (NDT II), Anders Helstrom (NDT I) and Jim Vincent (NDT I). During this time he had the honor of performing works by Jiří Kylián, Ohad Naharin, Mats Ek, William Forsythe, Crystal Pite, Paul Lightfoot and Sol León, Gustavo Ramirez, Johan Inger, Wayne McGregor, Alexander Ekman, and Marina Mascarell among others.
Throughout his time at NDT, Iván continued to explore his choreographic ideas by creating pieces for Switch, an annual event organized by the dancers of NDT. From this, his potential was recognized and he was invited to choreograph for the Upcoming Choreographers program of NDT I. He first created "Washing Machine" in 2008, and then participated again in this production in 2010 where he created "Momento". In 2011, commissioned by NDT II, Ivan created "Flesh". Other commissions include creating for The National Ballet of Cuba's 60th anniversary, as well as performing "A day minute" and "A transition", pieces he created for Switch, in Belgium, Spain, and Bratislava.
Over the years Iván has received numerous awards for both his dancing and his choreography. With his first work "Per loca maritima", he was awarded the first prize at the competition Young Creators and the Special Prize Theater of Madrid. " Minube¨, gained him the first prize at the International Competition of Choreography Burgos-New York. He won the third prize of the International Choreography Competition of Madrid, the first prize at the Competition of Scenic Arts and was a finalist at the International Choreography Competition of Hannover with ¨Switch off and go¨. He was nominated for a Swan Award, for his interpretation of Jiří Kylián's "Indigo Rose", and at the International Competition of Choreography Burgos-New York, he won the prize of Best Interpretation for his piece "Polvo". Iván was also named one of the best contemporary dancers of the last decade by Dance Europe magazine. Most recently he received the Revelation Artist Award from the Fundation Cultura Viva, in Madrid.
For more information visit www.ivanperezaviles.com
Benjamin Scheuer – Composer
born 1987 studied composition at the HfMT Hamburg with Fredrik Schwenk from 2006 – 2011. At present he is enrolled in post graduate studies with Wolfgang Rihm at the HfM Karlsruhe. Additionally he had lessons at the HfM Lübeck with Dieter Mack (2004-2006) and at the CNSMD de Lyon with Robert Pascal (2009-2010). His works cover all different kinds of formations including vocal music, chamber music and orchestra pieces. He had his first portrait concert at the age of 16 at the Youth Music School of Hamburg. His creative activity is focused on innovative but clearly recognisable form concepts and on the humoristic and theatrical elements of musicianship. Therefore he wrote many music theatre pieces, for instance "Figlioli Corsi" which was premiered in 2005 and the scenic cantata "Autobus S" which was first be performed on stage in April 2011. In his instrumental works he also implements scenic elements or a close relationship to literature, as in his staged concert "Theater der Affekte" (2011). For the years 2010 and 2011 he holds a scholarship of the "Jerwood Opera Writing Programme" (Aldeburgh, UK).
His compositions were performed at various festivals, like "Sommerliche Musiktage Hitzacker" where he was composer in residence in 2009, "Heidelberger Frühling" (2010), the "Young Composers Meetings Apeldoorn" (2007, 2011), on a china tour of the "Ensemble 21 der HfMT Hamburg" (2009), the ISCM World New Music Days (Sydney, 2010) and at "It's oh so choir" of the AGEC (Brussels, 2010). At a workshop of the "June in Buffalo" (USA, Arditti quartet) and at the International Composers Meeting of Mazsalaca (Latvia, ReDo-quartet) he worked at pieces for string quartet. He got several commissions as from the "Niedersächsische Musiktage", the Swabian Youth Symphony Orchestra and the Ensemble Vocal (Hamburg). His orchestra piece "Montagen" was first performed by the Radio Philharmonic Orchestra of Saarland (SR) conducted by Johannes Kalitzke in May 2011.
With his woodwind quintet "Nachklänge" he won the composition competition of the National German Music Council (DMW, 2011). Additionally he received  the 1st price at the international composition competition "Alphorn in Concert" (Switzerland, 2006), the "Andreas-Werckmeister"-price of the city of Halberstadt (2008), the promotion price of the 8th "Carl-von-Ossietzky"-composition competition (Oldenburg, 2009) and the 3rd international price "Premio Atahualpa Yupanqui" (Argentina, 2009). Since 2009 he has a scholarship of the Studienstiftung des Deutschen Volkes. He is founding member of "Musicians without borders": In august 2008, 2009 and 2011 he travelled to Guayaquil, Ecuador, where he lived in a slum and volunteered as music teacher and composer.
For more information visit www.benjaminscheuer.de
Christiaan Richter – Composer

(Utrecht, 26 March 1990) is a Dutch composer and pianist.
After having shown talent for music at a young age, Christiaan started to play the piano at the age of 7 and soon after that, he started to compose. In 2001 he participated in the Nieuwjaarsconcert with his composition Tree's, with the Netherlands Wind Ensemble at the Concertgebouw, Amsterdam, which was broadcasted live on television. Two times he won the 1st prize at the Prinses Christina Compositie Concours, in 2003 and 2007; with his composition iMages he won the commission for the International Masterclass Apeldoorn at the Young Composers Meeting 2010 in Apeldoorn, and he won the Tera de Marez Oyens Prize 2011. Also, he wrote the compulsory piece for the Iordens Violin Days 2010 (category IIB).
Christiaan studies composition at the Royal Conservatoire of The Hague with Martijn Padding and Diderik Wagenaar (and Calliope Tsoupaki 2008-2010), with a minor in music theory with Diderik Wagenaar, Paul Scheepers and Bert Mooiman, and piano lessons from Gerard Bouwhuis. He also took composition masterclasses from Richard Ayres, Jan van de Putte, Michael Smetanin and Helena Tulve.
Previously, Christiaan studied composition with Henk Alkema at the young talent class of the Utrecht Conservatory (2004-2008), and took piano lessons from a.o. Marcel Baudet, Ton Hartsuiker, Leon Bak, Henk Ekkel and Ko Zwanenburg.
For more information visit www.christiaanrichter.nl
Orkest de Ereprijs – music ensemble
orkest de ereprijs is a 15-member orchestra (wind instruments, percussion, piano, electric and bass guitar). Its tone colour and cast of musicians transforms itself easily to different compositions, often surprising the audience. 
orkest de ereprijs specializes in performing new music with compositions that are almost always written especially for the orchestra; Dutch of course but also of all kind of nationalities, age and experience.
The orchestra also maintains strong contacts with a number of foreign composers, which have resulted in numerous tours, participation in international festivals of new music and a broad repertoire. This repertoire includes over 700 commissioned works for orkest de ereprijs. The ensemble has continually explored new and innovative elements in composed and improvised new music. The ensemble participates in projects combining music with various art disciplines including film, dance, theatre, visual arts and architecture.
orkest de ereprijs is one of the  about 9 ensembles in the Netherlands who are being funded by the Dutch Government for 4 year periods. It exists since 1979 and is being funded by the national, regional and local authorities. It is not only the ensembles specialised in contemporary music but all kinds of ensembles: barock, classical chamber, string4tet, sax4tet and so on. It's kind of a base for a very diverse musical life.
These and all press material is and will be prepared for download:
contact press & public relations:
germany:
Dr. Heike Sauer
mechtild tellmann kulturmanagement (Inga Haschke)
ih@mechtild-tellmann.de            +49 (221) 997 150 21
spain:
Guillermo Arazo
netherlands:
Kim Lokers