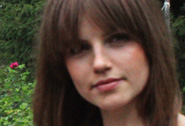 Marja-Leena Hirvonen was born in 1987 in Kitee, Finland.
During the school she was expect from dancing, also teaching ballet and show dance for the kids and youngsters in a society called Kiteen Naisvoimistelijat
From 2005 till 2006 Marja-Leena worked as a show dancer in a showdance group Cat People in Joensuu.
In 2006 she graduated Finnish Matriculation Examination in Kitee, Finland
From autumn 2006 until summer 2007 she did one year dance studies in Karis Volkshögskola (Commiunity Collage) where the practical subjects were contemporary, flamenco, jazz, ballet, improvisation.
During the same year she also did one year intense couching program for dancers, in Step Up Dance School, Helsinki, Finland. The program consisted of street dances, modern, show, jazz, stretching, yoga and many performances.
Since 2008 Marja-Leena has been studying dance (Bachelor of Arts) at the University of Music and Dance Cologne / Centre for Contemporary Dance (CCD).