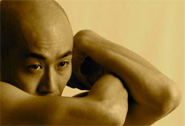 Teacher, dancer, choreographer, GYROTONIC®  certified Trainer and Pre-trainer, and GYROKINESIS® certified trainer and pre-trainer.
Born in Tokyo and trained in Tokyo and London. After working as a classic ballet dancer at the Performing Arts Council Transvaal (PACT) Ballet in Pretoria, South Africa (92-97), he moved to Germany to work as a contemporary dancer at Ballett Schindowski (Schillertheater NRW, Gelsenkirchen-Wuppertal, 1998-2000), Tanzcompagnie Gießen (Stadttheater Gießen, 2000-2002) and Tanztheater Osnabrück (Staedtische Bühnen Osnabrück, 2002-2005). From 2005, he continued his career as freelance dancer, teacher and choreographer based in Berlin, Germany. From April 2010 till August 2011, he returned to Tokyo to take a position as a faculty in the dance major at Japan Women's Collage for Physical Education. Since September 2011, Kojiro is faculty at Cologne University of Music and Dance (Hochschule für Musik und Tanz Köln) in Germany.
Throughout the years, he developed his own style as teacher/choreographer. He has been teaching contemporary dance as well as ballet classes at dance companies in Osnabrück, Bielefeld, Oldenburg, Kassel among others His choreographic works include Kokoro  (2002), Coppelia – A girl with CCD eyes –  (2004), Guten Morgen Tokio (2005), A Cat in a Box (2008), Zeitsprung – Blick Zueruck (co-working with S. Wiersma, 2010), The Other Side of Picture frame (2011) and others.
GYROTONIC® and GYROKINESIS® are registered trademarks of Gyrotonic Sales Corp and are used with their permission.