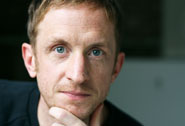 Born in Austria, Georg Reischl began his dance training with Rosa Hartlieb in Salzburg and attended the Vienna Opera Ballet School under the direction of Michael Birkmeyer. 
In 1993, he joined the ensemble of Liz King in Heidelberg. Thereafter, Reischl danced 4 years with Scapino Ballet Rotterdam. 
In 1999, Georg Reischl joined Ballet Frankfurt, where he experienced the repertoire and the collaborative creative process with William Forsythe. After the closing of Ballet Frankfurt, Reischl continued with the newly formed The Forsythe Company. Asked to become the resident choreographer for Scapino Ballet Rotterdam, Reischl left the company in 2006. 
As resident choreographer of Scapino Ballet, from 2006-2010, Reischl has created numerous pieces for the company, as well as formed important relationships on an international level. 
As a choreographer and as a teacher, Reischl has educational experience. He teaches Ballet for professional companies and academies and has developed a workshop method, which is called "Body Awareness Training". In a series of lectures to students in schools, universities and other events he uses his experience and knowledge in the art form to create a dialogue about dance.