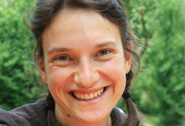 Yvonne Hardt is a dancer, choreographer and dance scholar. She is professor of Applied Dance Studies and Choreography at the University of Music and Dance Cologne.  Besides her initial contemporary dance formation, she studied theatre studies and history in her hometown Berlin and Montreal, Canada.
After graduating with an MA in history at Concordia University, Montreal, she wrote her dissertation on the political dimensions of German Ausdruckstanz. She was a faculty member of the Theatre Studies department of the FU, and for the academic year 2008/9 she was Assistant Professor for Dance, Choreography and Dance Studies at the University of California, Berkeley.
Her special fields of interests are: development of dance studies on methodological grounds with a special focus on theories of the body and gender, relations between performance and politics, dance history, post-colonial studies, the relationship between choreography and media. Next to her academic career Yvonne Hardt has pursued a successful career as a dancer and choreographer, continuously developing her own choreographic projects.
Her publications include: Politische Körper: Ausdruckstanz, Choreografien des Protests und die Arbeiterkulturbewegung in der Weimarer Republik (Münster: Lit 2004); Sasha Waltz. Interviste sulla coreografia contemporenea. Torino: L'Epos 2006, zusammen mit Martin Stern ist sie Herausgeberinnen von: Choreographie und Institution. Zeitgenössischer Tanz zwischen Ästhetik, Produktion und Vermittlung (Bielefeld: transcript 2011).