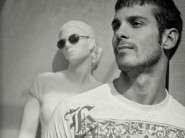 Originally from Alicante, Spain, Iván started dancing at the Professional Conservatory of his hometown. He eventually moved to Madrid to continue his studies of choreography and interpretation techniques at the University Rey Juan Carlos, where he finished with honors for the Best Choreographic Composition. During this time he also performed with the Joven Ballet de Cámara de Madrid, under the direction of Alicia Alonso.
At the age of 19, Iván received a scholarship from the Competition of Interpretation Ciudad de Castellón to be an apprentice with Nederlands Dans Theater II. Two months later, he was contracted with the young company for a 6 month period. He then went on to be a part of IT Dansa in Barcelona, with Catherine Allard as his director. Here he encountered works of Nacho Duato, Rui Horta, Wim Wandekybus, Steijn Celis, and Ramón Oller. Iván then returned to NDT, a relationship that would stretch for seven productive years. Here Iván worked under directors Gerald TIbbs (NDT II), Anders Helstrom (NDT I) and Jim Vincent (NDT I). During this time he had the honor of performing works by Jiří Kylián, Ohad Naharin, Mats Ek, William Forsythe, Crystal Pite, Paul Lightfoot and Sol León, Gustavo Ramirez, Johan Inger, Wayne McGregor, Alexander Ekman, and Marina Mascarell among others.
Throughout his time at NDT, Iván continued to explore his choreographic ideas by creating pieces for Switch, an annual event organized by the dancers of NDT. From this, his potential was recognized and he was invited to choreograph for the Upcoming Choreographers program of NDT I. He first created "Washing Machine" in 2008, and then participated again in this production in 2010 where he created "Momento". In 2011, commissioned by NDT II, Ivan created "Flesh". Other commissions include creating for The National Ballet of Cuba's 60th anniversary, as well as performing "A day minute" and "A transition", pieces he created for Switch, in Belgium, Spain, and Bratislava.
Over the years Iván has received numerous awards for both his dancing and his choreography. With his first work "Per loca maritima", he was awarded the first prize at the competition Young Creators and the Special Prize Theater of Madrid. " Minube¨, gained him the first prize at the International Competition of Choreography Burgos-New York. He won the third prize of the International Choreography Competition of Madrid, the first prize at the Competition of Scenic Arts and was a finalist at the International Choreography Competition of Hannover with ¨Switch off and go¨. He was nominated for a Swan Award, for his interpretation of Jiří Kylián's "Indigo Rose", and at the International Competition of Choreography Burgos-New York, he won the prize of Best Interpretation for his piece "Polvo". Iván was also named one of the best contemporary dancers of the last decade by Dance Europe magazine. Most recently he received the Revelation Artist Award from the Fundation Cultura Viva, in Madrid.