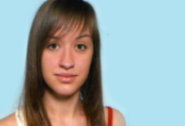 Cristina Marín graduated at the Conservatorio Profesional de Danza of Algemesí. Currently she is studying Choreography 4th in the Conservatory of Valencia.
She studied as well with different teachers as Tomas Noone, James Carles Nghou, Saint Louis Rhino, Karemia Moreno, Mamen García, Saint Louis Rhino, Elena LLopis, Alicia Herrero, Manuel Forner, Mirco Fila, Gema Casino, Eva Bertomeu, Rosalía Ortega, Asun Noales, Sebastian Rowinsky…
Her work experience are with Joaquin Martinez Foios Parade, choreographed by Elena Lerma;Palau de les Arts Reina Sofia; Show "Murmurs of being" with Jose Antonio Tamarit and Thierry Laban.