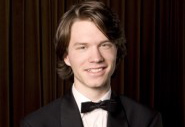 Christiaan Richter (Utrecht, 26 March 1990) is a Dutch composer and pianist.
After having shown talent for music at a young age, Christiaan started to play the piano at the age of 7 and soon after that, he started to compose. In 2001 he participated in the Nieuwjaarsconcert with his composition Tree's, with the Netherlands Wind Ensemble at the Concertgebouw, Amsterdam, which was broadcasted live on television. Two times he won the 1st prize at the Prinses Christina Compositie Concours, in 2003 and 2007; with his composition iMageshe won the commission for the International Masterclass Apeldoorn at the Young Composers Meeting 2010 in Apeldoorn, and he won the Tera de Marez Oyens Prize 2011. Also, he wrote the compulsory piece for the Iordens Violin Days 2010 (category IIB).
Christiaan studies composition at the Royal Conservatoire of The Hague with Martijn Padding and Diderik Wagenaar (and Calliope Tsoupaki 2008-2010), with a minor in music theory with Diderik Wagenaar, Paul Scheepers and Bert Mooiman, and piano lessons from Gerard Bouwhuis. He also took composition masterclasses from Richard Ayres, Jan van de Putte, Michael Smetanin and Helena Tulve.
Previously, Christiaan studied composition with Henk Alkema at the young talent class of the Utrecht Conservatory (2004-2008), and took piano lessons from a.o. Marcel Baudet, Ton Hartsuiker, Leon Bak, Henk Ekkel and Ko Zwanenburg.