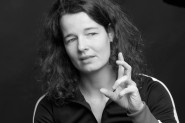 Vera Sander is director of the Centre for Contemporary Dance and Professor for Contemporary Dance at the University for Music and Dance Cologne and has since been central to its development as teacher, publisher and organizer. She teaches e.g. contemporary dance, choreography and performance practice. She worked as choreographer, dancer or teacher with e.g. Tanzforum Köln (D), Dansgroep Krisztina de Chatel (NL), Itzik Galili (NL), Semperoper Dresden (D), DV8 (UK), Adventures in Motion Pictures (UK) as well as for a diverse range of international Festivals.
Her interest centers on choreographic and body knowledge as a source for interdisciplinary and intercultural creativity. She has been regularly invited to lead workshops and classes as well as to collaborate to share her research.
She is one of the four speakers of the "Dance Education Conference Germany" and as such member of the steering group of the Dance Education Biennale, a national forum for exchange and encounters between students and teachers that provides a platform for artistic presentations, lectures, workshops and professional trainings to create a lively exchange atmosphere about dance and choreography, as well as about different approaches in education and work between students, teachers, artists, researchers and audience.
She participated in the research project "Dance Techniques 2010" initiated by tanzplan deutschland and is currently occupied with the establishment and development of study programs and exchange formats in the field of dance.
Vera Sander studied at London Contemporary Dance School (UK) and Hogeschool voor de Kunsten Amsterdam (NL).